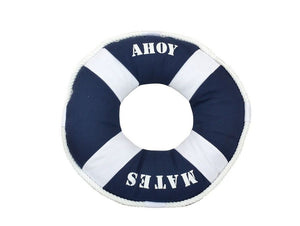 Blue Ahoy Mates Pillow 14""
Product ID: Y-60779-Blue-Ahoy Weight: 1 LB Box Dimensions: 14" L x 1" W x 6" H
THIS MODEL SHIPS WITHIN 3-4 WEEKS
* IF YOU NEED IT SOONER PLEASE MESSAGE US BEFORE PURCHASING THIS MODEL SO WE CAN CONFIRM THAT WE CAN SHIP IT SOONER.
" INTERNATIONAL ORDERS. Shipping costs for all International orders are estimated. We charge a minimum of $60.00 for international orders and we will send you a quote upon receiving your order if the cost is higher. In the event that the shipping costs are higher we will additionally invoice you once you have approved the quote. We are NOT responsible for any additional fees that may be incurred by Customs at destination. We urge you to check with your local postal service in your respective country. In the event you do not claim your merchandise and it is returned you will be responsible for the shipping costs and restocking fees and any additional fees incurred while the merchandise gets returned. Please do provide us with a good phone number when you place your order in order to include it in the shipping documents.

 This charming Red Ahoy Mates Pillow 14 inch combines the atmosphere of beach decor along with a life ring as a beach throw pillow. This beach pillow is the perfect accent to spruce up your beach home. Place this lifering pillow in your beach living room to show guests your affinity for beach decor.
Dimensions: 14 inch Long x 3 inch Wide x 14 inch High
Handcrafted by our master artisans
Pillow clearly displays the words inchAhoy Mates inch
Perfect nautical red color used to accent beach theme throw pillow
Wonderful beach throw pillow - in the shape of a lifering and is wrapped in rope