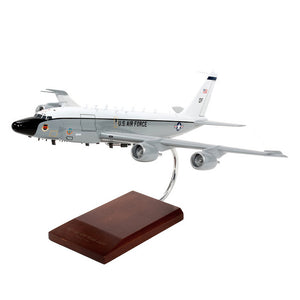 Boeing RC-135V W Rivet Joint New Engines Painted Aviation Models

This Handmade painted Model will ship within 8-10 weeks. (Full customization available) Please note all models will be replicated based on images. The final product may vary slightly from what you see on the images provided here. 
Measurements of your model: This model measures 16 inches in length. The wing span of the model is determined by the length of the aircraft and therefore the wingspan will be proportionate or scaled. We do not use specific scales and rather go by the length of the aircraft. In the event the wingspan of an aircraft is longer than the length we will make the wingspan 16 inches and the rest of the aircraft proportionate to scale.

This model can be customized upon request with the same airwork/graphics, tail number and mounted on a dark painted base with metal arm. Upgraded and custom mounting options available. These models are 100% handmade and made to order. For an additional fee of $200 The airplane models can also be fabricated with a custom interior down to the upholstery, carpeting design and more. LED Lighting options, Landing gear and cross sectionals can also be fabricated from 12 inches to 12 feet and larger. Custom Ship Models, Yacht models, Car Models and even large sculptures can be fabricated in any configuration. Custom Models fabricated from your photos. Aircraft Models are NOT the only models we build. We also build Jet Engine Models, Equipment models, Ship Models, Machinery, Automotive and more. The more information, blueprints and photos provided, the more accurate we can fabricate the model.

To create your very own custom version of the model please send us an email after you place this order and we will follow up with the request for additional images and information. At that time we will send you an invoice for the customization fee in order for us to begin working on your model. Once the model is complete we will send you images of the completed model before we ship it to you. For all models you muct allow up to 10 days for it to arrive after we ship.