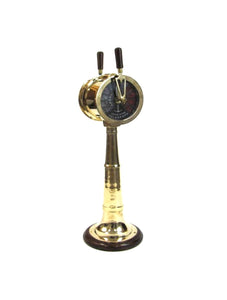 Engine Telegraph 40"

Measurements: 40" H (with handle up)

Total height: 36"

SKU BR 48481

SPECIFICATIONS

The ship's Engine Telegraph is designed to send information from the control room to the engine room concerning the ships speed and direction. This ship's telegraph is one of the highest quality reproductions available. It features a lever on each side that moves in both directions. Each time the lever moves an internal bell rings. It makes a great conversation piece and looks amazing in the family room, living room, office, bar and restaurant. This item is available in the 40" height with handle.

Made of fine quality brass with wooden base
Each time the lever moves an internal bell rings
With lever on each side that moves in both directions.

PLEASE READ IMPORTANT SHIPPING INFORMATION

*INTERNATIONAL ORDERS. Shipping costs for all International orders are estimated. Your order may charge a minimum of $60.00 by default but we will send you a quote upon receiving your order if the cost is higher. In the event that the shipping costs are higher we will invoice you once you have approved the quote. We are NOT responsible for any additional fees that may be incurred by Customs at destination. We urge you to check with your local postal service in your respective country. In the event you do not claim your merchandise and it is returned you will be responsible for the shipping costs, restocking fees and any additional fees incurred while the merchandise gets returned. Please provide us with a good phone number when you place your international orders in order to include it in the shipping documents. Allow 10-12 days transit for most locations within Europe and Canada. Other regions may take longer.Please contact us for additional shipping times.

*DOMESTIC SHIPPING. We ship FREE within 5-7 days domestically anywhere within the 48 contiguous states. Please allow 1-7 days transit for most locations within the US.

WE THANK YOU

We thank you for taking the time to view our craft. We are blessed by customers like you who support our small business. From the Master Craftsmen and women that pick the wood and create the wonderful models you see to the people that make it possible for you to view our items on the web. We are grateful and we THANK YOU!. God bless you.