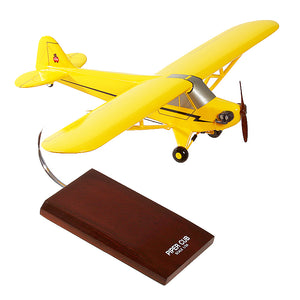 Piper J-3 Cub

( This model ships in 3-5 Days)

Length 15 Wingspan 19 Height 16 Weight 4.00
INTERNATIONAL ORDERS. Shipping costs for all International orders are estimated. We charge a minimum of $60.00 for international orders and we will send you a quote upon receiving your order if the cost is higher. In the event that the shipping costs are higher we will additionally invoice you once you have approved the quote. We are NOT responsible for any additional fees that may be incurred by Customs at destination. We urge you to check with your local postal service in your respective country. In the event you do not claim your merchandise and it is returned you will be responsible for the shipping costs and restocking fees and any additional fees incurred while the merchandise gets returned. Please do provide us with a good phone number when you place your order in order to include it in the shipping documents.

"We offer over 1,000 aircraft model designs, from military aircraft models to civilian plane replicas. We are proud to be one of the few model companies licensed by major aircraft manufacturers such as Boeing, Lockheed Martin, Cessna, Sikorsky, Bombardier, and many others. Each of our desktop models is prudently hand-carved by our seasoned model builders to bring a faithful scale reproduction of your favorite aircraft. More than mere displays, these models are a reflection of the times, and occasionally, of the personality of their owners. More importantly, they serve as family treasures that could be passed on to the younger generations. You will surely appreciate the craftsmanship and history behind our models.


* Handcrafted by a series of master craftsmen using only the highest grade materials
* Each product is identical to the plane's original blueprint
* Truly a fusion of art and history, a museum quality masterpiece unmatched by another model producing company on earth
* The perfect gift for any aviation enthusiast, history buff, military personnel, or collector"