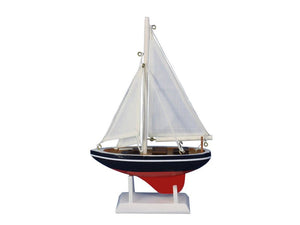 Wooden American Sailer Model Sailboat Decoration 9""

Product ID: 5572 Item ID: Sailboat9-101 Weight: 1 LB Dimensions: 5" L x 1.5" W x 9" H

Brighten your day, or any room of your home, with this delightfully fun American Sailer sailboat decoration 9 inch. Perfect nautical décor gifts for friends, children, or party guests, they also make excellent nautical decorations or sailboat centerpieces for a reception or group event. Liven your office, beach house, or sunroom with this American sailboat model today!

NOTE: This item is small, only 9 inch. Please measure this size yourself to ensure it is appropriate for your intended purchase.

Handcrafted solid wood hull, masts and stand
Removable from the base - Use as a cake topper, Christmas tree ornament or some other nautical decor
Patriotic nautical colors - Red, White and Blue
Largest sailboat selection available - We offer over 150 unique model sailboats
Perfect nautical gift for friends, children or party guests

Ideal for banquets, receptions, meetings, or any other nautical party or event ---- Contact us for quantity discount
SHIPPING DETAILS
***INTERNATIONAL CUSTOMERS READ BELOW PLEASE

WE OFFER FREE SHIPPING ON ALL DOMESTIC ORDERS WITHIN THE USA.

We ship all stock models within 3-7 days from the day you place your order. Transit time is from 5-7 days depending on your location. Please allow 2-3 days in addition for processing time.

We ship all custom models within 8-10 weeks from the day you place your order. Transit time is 7-10 days depending on your location. Please allow 2-3 days in addition for processing time.

***FOR INTERNATIONAL ORDERS.

Yes. We can ship internationally but you must send us a message first with a link to the product (s) you want to order from our website and we will send you a quote for shipping. If you agree we then create a custom link for your order so you can place the order. You must provide us with a phone number for the shipping company after you place the order as we can not ship Internationally without a phone number. Allow an extra 7-10 days for delivery beyond the regular shipping time. WE ARE NOT responsible for any additional fees that may be incurred by Customs at destination. We urge you to check with your local postal service in your respective country before you order. In the event you do not claim your merchandise and it is returned you will be responsible for the shipping costs and restocking fees and any additional fees incurred while the merchandise gets returned. Please do provide us with a good phone number when you place your international orders in order to include it in the shipping documents as we can not ship without a phone number.

WE THANK YOU !

We thank you for taking the time to view our crafts. We are blessed by customers like you who support our small business. From the Master Craftsmen and women that pick the wood and create the wonderful models you see to the people that make it possible for you to view our items on the web. We are grateful and we THANK YOU!. God bless you.