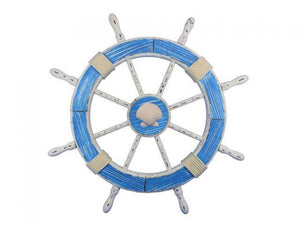 Wooden Rustic Light Blue and White Decorative Ship Wheel With Seashell 30""

Weight: 15 Box Dimensions: 30" L x 2" W x 30" H

"This Rustic Light Blue and White Wooden Ship Wheel with Seashell 30 inch combines a finish with quality craftsmanship to make this the perfect nautical wall hanging to accent your home. Ideal for those who love colorful nautical wall art, this beach decor will leave your guests in awe. This steering wheel has eight spokes surrounding it and is easily mountable to a wall if in need of a beach decoration.
The overall dimensions of this ship steering wheel (including the spokes) are 30 inch Long x 30 inch High.


Dimensions: 30 inch L x 2 inch W x 30 inch H 

NOTE: Wall mounting hardware not included.



Rustic Light Blue and White finish instantly catches the eye
White seashell decoration in center of wheel accents the light blue and white finish perfectly
Eight spokes surround ship wheel
Hang and mount easily on your wall to add the perfect beach theme decoration"